Our Frequently Asked Question page is broken up into:
1. About Our Cookies
2. Ordering and Shipping
3. Fundraising
4. Franchising
How big are your cookies?
- DEPENDING ON DESIGN AND SHAPE, ANYWHERE BETWEEN 3-4".
What if I don't like them?
- SALES ARE FINAL, ALTHOUGH WE DO APPRECIATE ANY AND ALL FEEDBACK. WE WOULD BE GRATEFUL FOR YOUR INPUT VIA OUR CONTACT PAGE.
How do I find the ingredients to check for allergies?
- THE INGREDIENTS LABEL IS LOCATED ON THE BOX OR CLICK HERE.
Do you only make these cookies, or are there other products made in the facility which contain other ingredients?
YES
Do you offer gluten free or vegan?
WE CURRENTLY OFFER GLUTEN FREE AND VEGAN COOKIES.
What are the costs per dozen?
- OUR MIXED HOLIDAY DOZENS ARE $26 PLUS 7% INDIANA SALES TAX + SHIPPING. $13 FROM THE SALE IS DONATED TO YOUR CHOICE OF FUNDRAISER. (SAME W/$30)
Can I see the nutrition label?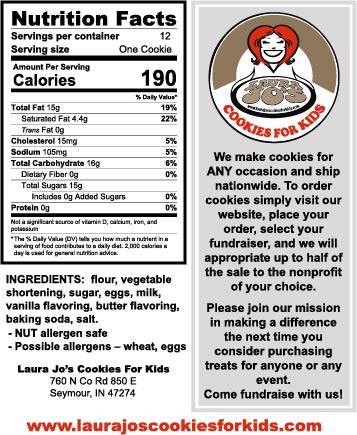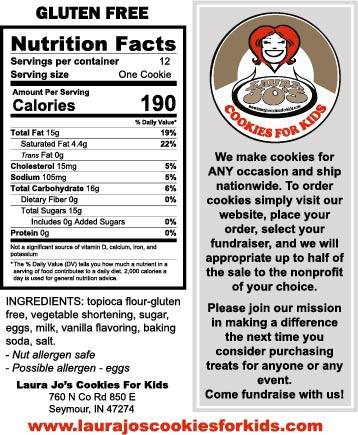 ---
Do you take orders outside of your website?
WE DO NOT TAKE ORDERS VIA EMAIL OR FACEBOOK MESSENGER. WE ONLY TAKE ORDERS PLACED THROUGH THE ORDERING PROCESS ON OUR WEBSITE.
How are they shipped?
- WE TAKE DELICATE CARE WITH YOUR COOKIES. THEY ARE INDIVIDUALLY PACKAGED, WITHIN TISSUE PAPER INSIDE A DOUBLE-EDGED BOX, WHICH SHIPS INSIDE A PADDED ENVELOPE. MULTIPLE DOZEN ORDERS ARE SHIPPED INSIDE LARGER BOXES.
What if they are damaged?
- WE TAKE PRIDE IN OUR PACKAGING TO ENSURE YOUR COOKIES ARRIVE SAFELY TO YOU OR YOUR LOVED ONES. HOWEVER, ONCE THE COOKIES LEAVE OUR FACILITY AND CARE, WE CAN'T BE RESPONSIBLE FOR HOW THEY ARRIVE.
Do you ship to all 50 states?
- YES, WE DO.
Who do you use for shipping?
- U.S. POSTAL SERVICE (USPS)
Can I order less than a dozen?
- OUR COOKIES ARE PACKAGED AND DESIGNED TO SHIP BY THE DOZEN. UNFORTUNATELY, WE DO NOT OFFER A LA CART AT THIS TIME.
I have several orders to ship to different locations, how do I facilitate this?
1. Once you have selected the desired cookies you want to purchase, proceed to your cart.
note: if you want to send the same cookie type to multiple addresses you will need to select them individualy for each address. for example if you want to send one dozen doctor cookies to one address and two dozen doctor cookies to another address you will need to choose the doctor cookies and select one dozen and add to the cart. Then you would go back to the doctor cookies and select two dozen and add to the cart.
2. The first section in your cart is titled "customer." If you have an account with us, sign in. if you don't have one, you will need to create an account with us to ship to multiple locations.
Creating an account:
A. To do this you must click the "sign In Now" link.
b. Then you will see "Don't have an account?
create an account

to continue." Click the "

create an account

" link.
C. Once you have created an acount, sign in with your new account.
3. now you have signed in, you will be in the "shipping" portion of your cart. You will see a link called "ship to multiple addresses." Once you click the link, you will see each item you selected to purchase with a box under each. You then you can add the address for each item.
4. once all of the addresses have been entered, click the "continue" button and it will take you to billing.
---
How do we get our charity on your website for fundraising?
TO JOIN OUR FUNDRAISING PROGRAM, ALL WE NEED IS A COPY OF YOUR TAX ID, A LOGO, AND A ONE OR TWO SENTENCE DESCRIPTION ABOUT YOUR FUNDRAISER SO THAT PEOPLE DONATING KNOW WHERE THE MONIES ARE GOING. IF YOU HAVE A WEBSITE OR SOCIAL MEDIA LINK, WE CAN ADD THAT TO THE LOGO AND DONATORS CAN CHECK OUT YOUR SITE DIRECTLY FROM THE LINK AS WELL.
How do I make sure my money goes to the correct fundraiser (charity)?
- IF YOU'RE WANTING YOUR MONEY TO GO TO A SPECIFIC CHARITY, YOU SIMPLY CLICK THE CIRCLE NEXT TO APPROPRIATE FUNDRAISER DURING THE ORDERING PROCESS. YOU CAN NOT COMPLETE YOUR ORDER UNTIL A FUNDRAISER IS CHOSEN. ALL DETAILED INFORMATION ABOUT EACH RESPECTIVE FUNDRAISER IS LISTED UNDER THE "CHARITIES" TAB FOR YOUR REVIEW.
How do I setup a fundraiser?
- REACH OUT TO US VIA SOCIAL MEDIA OR THRU OUR CONTACT FORM ON OUR WEBSITE. YOU WILL NEED YOUR ENTITY'S TAX INFORMATION (FEDERAL TAX ID OR TAX EXEMPT PAPERWORK REQUIRED), A LOGO, AND A SHORT DESCRIPTION OF WHERE FUNDS RAISED WILL GO TO BENEFIT CHILDREN.
What percentage of the sale goes to kids?
- 25 TO 50% OF THE PRICE OF THE COOKIES GOES TO A FUNDRAISER YOU SELECT IN THE CHECKOUT PROCESS.
---
Do you offer franchises?
- WE WILL BE OFFERING FRANCHISE OPPORTUNITIES IN THE FUTURE. PLEASE STAY TUNED FOR ANNOUNCEMENTS.